Little black dresses are the same item of clothing worn by Audrey Hepburn, Angelina Jolie and Victoria Beckham. Sophisticated, understated and elegant with minimal effort, little black dress tocks every style box there is.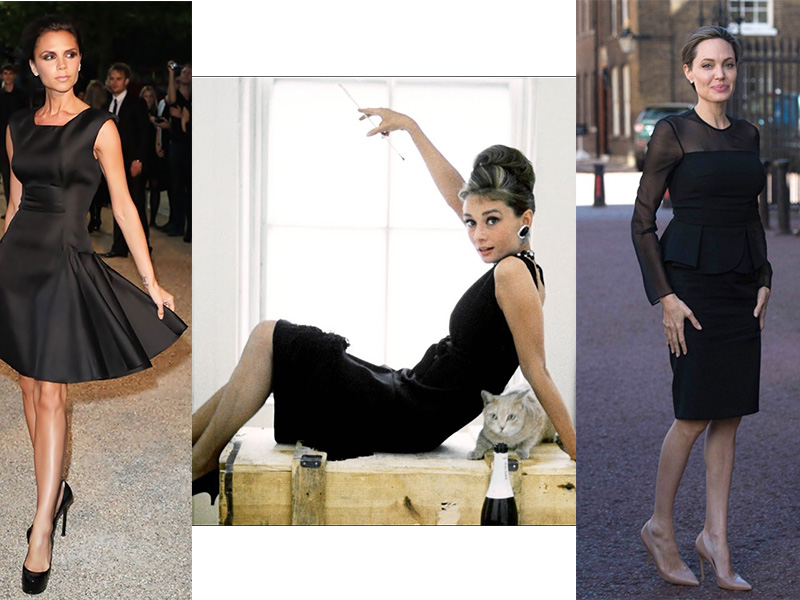 LBD suits absolutely everybody and can be worn to any event out there. It's always stays fashionable and trendy year after year. Pack a little black dress into your holiday suitcase, and you're all set for a variety of different vacation outfit options no matter what the season.
Think of all the styling options – here is some essential little black dresses that can carry you straight from the office right to the club. Check these best dresses to get you started on your journey into fabulous LBDs.
The Bodycon Convertible Dress
Black has the magical ability to make us appear slimmer and even taller than we are. Wearing little black dresses draw the focus away from any bumps or bulges on your body.
We can see this basic design becoming a favorite in your closet. It can be worn into one shoulder or off-the shoulder neckline as you wish. It hugs your body very well, dress it up with sparkly jewels and stilettos for clubbing with your girlfriends. It can be different style with different jewelries, modern, elegant, or cool for different occasion.
The Sweet, Playful Date Lace Little Black Dresses
This lacy little black dress is demure while still showing a suggestive bit of skin. It has the sheer mesh sleeves along the off the shoulder neckline the fit is fit and flare and utterly feminine with lace material – just perfect for a fun, easygoing day date with that special someone. So, you want something sexy but still classy? Look no further than a lacy LBD.
Pair it with classic ballet pumps or white sneaker for a cute, youthful look.
The Femme Fatale Date Dress
This vintage black satin A-line dress undoubtedly seductive, sensual.
This one packs a powerful punch: a sleek, off-the-shoulder neckline that leads to a big V.
The A-line silhouette design is sure to fit everybody, get you elegant to keep your accessories light and minimal with your hair and makeup understated.
The Classic 'Audrey Hepburn' LBD
If it's class, elegance and sophistication you're after, this LBD could fit easily. It can be treated as wedding guest dresses with a bling waistband, or it can be worn to office with a blazer or cardigan.
How to style it depends on your taste and the occasion. But basic black sandals and barely-there jewelry never go wrong. Let the dress's quiet mystique speak for itself.
The Sexy Yet Sweet White and Black Dress
Sequin white and black Lace Bandage Bodycon Dress, if you want something special but sexy, this dress is the one.
A mini black skirt billows out from a fitted empire waistline, but it's the white sequin bodice that catches the eye. A beautiful sweetheart cuts, the bodice in irregular piece add a modern effect. This look is the ideal flirty wedding ensemble.
One shoulder LBD for New Year's Eve
This one Shoulder little black dresses with extra cape back for fancy celebrations.
This one-shoulder ruffled style strikes the perfect balance between frivolous and formal.
It's also perfect for showing slim waist – the extra chiffon down from the shoulder ensures a fancy appearance as well as extra volume around the hips to tone down larger thighs.
The Timeless Dotted Lace Dress
Been invited to a snazzy black-tie dinner or even a gala charity event? You won't go wrong with a dotted lace umbrella dress into any era in history – from the formal 1920s to the ultra-modern present-day.
This silhouette and satin ribbon ties together create perfect body ratio. Pretty patterned sandals add a nice, unexpected dash of color to this otherwise monochrome look. Red lips and side waves modern girls is the first sight into mind when see this dress.
The Must-Have Ladylike Dress
This LITTLE BLACK DRESS is skater silhouette with high illusion neck, Sure, it may be an LBD, but with its asymmetric length, the effect is classic and slightly trendier.
Maintain that cool modern effect by keeping jewelry to an absolute minimum. The same goes for your hair and makeup – a simple high ponytail and nude lips provide all the styling that this stunner needs.