Let's be honest, bridesmaid dress also important to a wedding party. When ordering bridesmaid dresses, we not only need to consider the style for different body shapes and skin tone of bridesmaid dresses, but also color of the bridesmaid dresses. They help set the tone of the whole wedding same as wedding decorations.
There is always a balance between what is trending, and what you want the dresses to look like. If you are struggling with decide colors of your girls' dresses, here are top 6 colors to match every wedding palette for you to consider.
1.  Dusty Sage Bridesmaid Dress
As a neutral colour, this soft, whisper of a green is a fresh alternative to blush or champagne color. It is a trending colour in the bridesmaid dresses loved by bride and her girls. It looks gorgeous on everyone, compliments every skin tone and hair color, and it pairs well with any season.
Sage green bridesmaid dresses go well with almost accent colour, it meaning your decorating process will be that much easier.
And when it comes to photographs, sage green bridesmaid dress looks stunning. It is a timeless colour, you'll love looking back at in photos.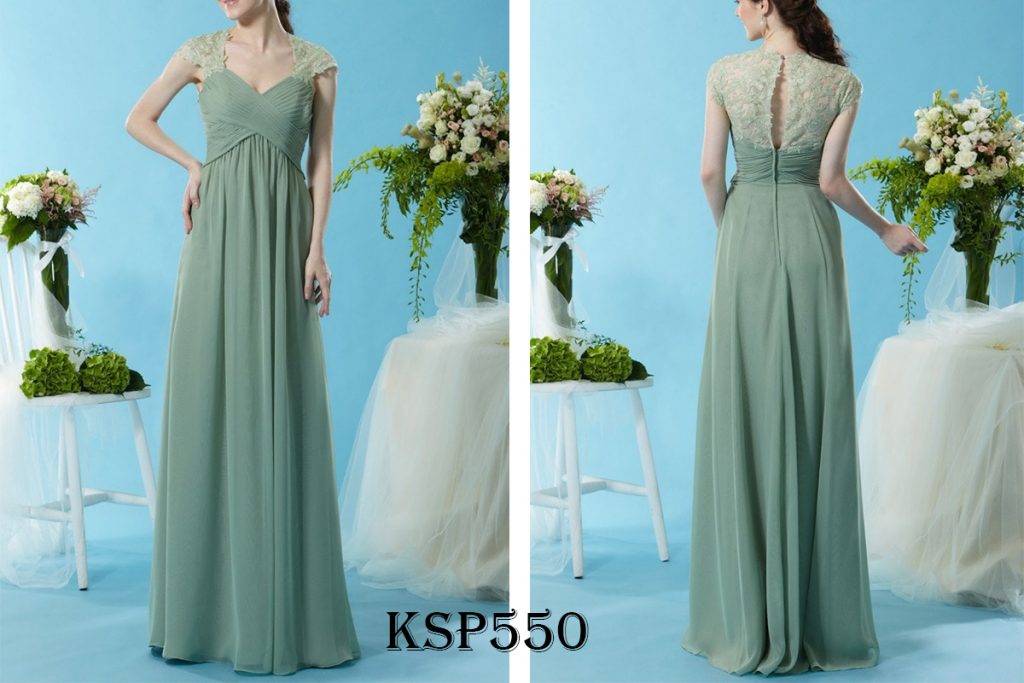 2.  Wine Coloured Bridesmaid Dresses
Wine colors suits any style and design of bridesmaid dresses, brides and bridesmaids can't resist the elegant look of wine bridesmaid dresses.
Perfect Wine colour shade including Maroon, Merlot, Cognac and burgundy. Give your wedding a warm welcome with the best selection of wine coloured bridesmaid dresses
Wine coloured bridesmaid dress is good for almost all wedding themes and wedding season with different style and length. Such as maxi draped bridesmaid dresses for an elegant wedding, short wine coloured bridesmaid dresses for vintage style, rustic or barn wedding party.
BTW, wine coloured bridesmaid dresses don't need too many accessories, because this colour is very eye-catching in in itself.
Your girl needs an elegant wine coloured bridesmaid dress not a messy one.
3. Muted Blush Dresses for Bridesmaids
An array of blush is the color of choice when looking for something that will perfectly portray a romantic and sensitive vibe
We didn't leave pretty in pink behind in the '80s', blush bridesmaid dresses are the natural fit and pastel pinks bridesmaid dresses are a tried and true classic. The light pink-hued dresses remain everywhere wedding-related.
It makes sense that the charming color would stick around in the wedding world. Blush in particular works well for wedding attire. It is muted, elegant and fits into large variety of wedding colors palettes. There is perhaps no other color more than muted blush that associate more with love and romance.
4. Forest Green Bridesmaid Dress
Forest green has a dark green finish that resembles the color of woodland trees and plants. It is a dark, cool, coal black with a raven undertone.
Rich emerald is a sumptuous shade for and outdoor, fall wedding, while enchanted forest green wants to be modern and amazing that are going strong this year.
5. Glittering Gold Bridesmaid Dress
Want a bit of sparkle on the wedding day? One of our favorite ways to dazzle guests with your wedding is with glittering gold sequin bridesmaid dresses, whether it's featured on a luxe velvet or with all -over sequin. With glittering golden bridesmaid dress, girls will lift up the whole vibe and offer an extra dose of festive spirit on the big day.
Glittering gold bridesmaid dresses look perfect to go with the ivory or white wedding dresses, no matter the length or neckline style is. Brides will look prettier and radiant.
6. Jewel Tone Bridesmaid Dresses
Jewel tone bridesmaid dresses are bright and colorful, and inspired by jewels like emeralds, rubies, sapphires and amethysts.
Rich jewel tone bridesmaid dresses are hot trend, they add a gorgeous shot of color and are perfect for any season wedding. If you want to have your bridesmaids feel their best, it is the dress.
It doesn't get any prettier than these deep amethyst bridesmaid dresses! Jewel tone shades create such a gorgeous contrast with the bride's white gown! We love how these 'maids chose different styles, but all in the same purple shade.
Jewel tone bridesmaid dresses are best ideas of mix and match bridesmaid dresses.